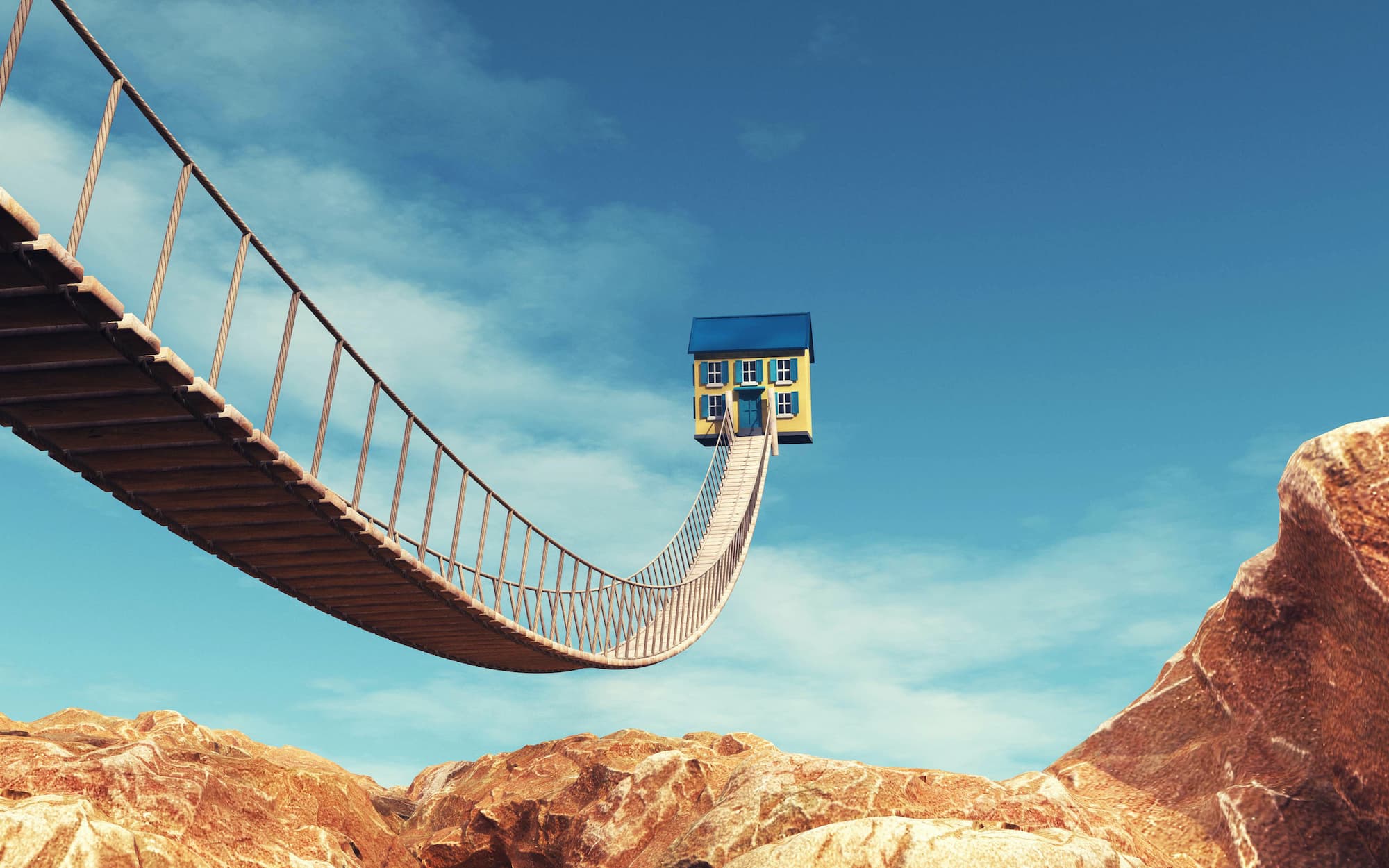 A bridging loan can offer a short-term solution to many requirements, enabling a lucrative opportunity to become a successful one. The essence of bridging is the ability of the lenders concerned to understand the issues involved and provide funding where mainstream lenders may not be able to.
Bridging loans are short-term interest-only loans, which effectively, 'bridge' a temporary, financial gap you may find yourself in. Primarily used to fund a quick property purchase, the bridge is just until the sale has been completed, upon which the proceeds of the sale are used to repay the bridge.
Bridging loans are often used by property developers and investors at auction, as they often need to pay a deposit to secure their purchase at short notice, and although popular with landlords and developers, we also see an increase of bridging finance being used for people who are moving house too. In the current climate of fast property sales, we find ourselves in, a bridging loan could also help secure your dream home.
There are many other uses for a bridging loan to be beneficial to you though, which can vary from the traditional house purchase to development costs, purchasing land, and even to buy out a business partner. The purposes of these loans are many and varied and do not necessarily have to be for property investment purposes.
The two primary types of Bridging Loans
Closed Bridge – A 'closed' bridge refers to a loan provided to a borrower who already has a guaranteed repayment plan or 'exit strategy' in place. This means the lender knows exactly how and when the loan will be repaid.
Open Bridge – An 'open' bridge refers to any bridging loan provided where no specific exit date or plan is provided, and open loans typically run for a fixed period of six months to one year.
The criteria for approval remains the same for both-the ability to pay back the loan, within the designated timescale.
Regulated and unregulated Bridging Loans
Regulated bridging loans are when the borrower secures funds against their existing or intended main residence and they are up to 12 months in term. Unregulated bridging loans are when the borrower secures funds against property which is not their existing main residence.
The benefits of a Bridging Loan
Speed – Obtaining bridging finance is, in essence, a simple process and one which can be achieved quickly, often giving an immediate decision. With the possibility of having the loan offer issued the same day, this can result in the funds being able to be generally drawn down within a matter of days.
Flexibility –  Bridging loans are more flexible than most other financial products. A bridging loan can be secured against houses, flats, commercial units, work premises, land and building plots, as well as the obvious of purchasing property at auction, where a cash purchase is required.
No penalties for early repayment – In most cases, bridging finance lenders, unlike mortgage lenders, do not charge a fee for early repayment of the loan. Borrowers can potentially save money on their interest payments for a bridging loan if they pay back early, as this is charged monthly for as long as it takes for full amount to be repaid
Useful for poor credit history – Unlike a mortgage application, people with poor credit history may still be able to obtain bridging finance.  As long as the borrower can provide security for the loan, usually in the form of property, this is often seen as more important with the decision making, as opposed to income, affordability and previous credit history.
For further information on  the benefits of bridging loans and advice, please contact us here.